HOME
> Seth Books and CDs
Seth Books, eBooks & CDs
We first started writing books with Seth back in 2002
, shortly after the events of 9/11. Seth returned at that time, almost twenty years after the death of his first co-author,
Jane Roberts
, thinking that we could use some guidance after the tragedy that shook the world. Now it is eleven books later and Seth is still providing the Truth to our readers, our phone clients and those who attend our public events.
Seth Returns is the only place you can find all twelve of the new Seth paperback books and eBooks. You can read our eBooks on any computer that has the FREE Adobe Reader installed as well as on most of the portable electronic readers.
We will eMail your eBooks to you as soon as possible after you order.
The Visionary Chronicles (available in eBook only)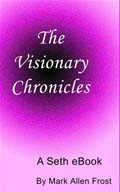 In Seth's most recent eBook,
he teaches Mark how to use the Seth Teaching to improve his life
. Concepts such as The Spacious Moment and embodiment are explained in a series of conversations with Seth as Mark goes about his daily life. One learns it is not all Love and Light in the Seth kingdom.
Read Inside
$1.49 USD
The Reality Creator's Handbook
Manifest Your Vision in 28 Days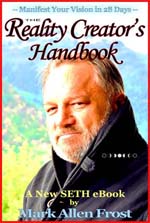 Here
Seth presents his Teaching in a simplified form
, so that anyone can create their world differently. Learn how to work with the natural forces to
create whatever you wish in a 28 day lunar cycle
.
Read Inside
Paperback $7.49
eBook $1.49
Seth on Death and the Afterlife
An Experimental Guide
Heal your Issues around death and dying
. Learn how to uncover and process the negative programming that has been holding you back from experiencing a full life.
Prepare yourself for the moment of death and beyond
.
Read Inside
Paperback $7.49
eBook $1.49
"Love Being - This 2012 publication is doing wonders for me! I refer to it and practice the contents on a daily basis. Thank you for producing this great teaching aid." Meili in the US
Love Being
Waking Up in the New Consciousness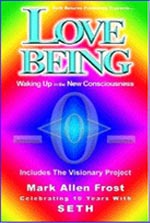 Learn how to use Love to raise your consciousness. Includes the revealing Findings of
The Visionary Project
, a group of four of Seth's students who created their own Regimens according to Seth's recommendations, and lived them for 28 days.
Read Inside
Paperback $7.49
eBook $1.49
Resonance
Manifesting Your Heart's Desire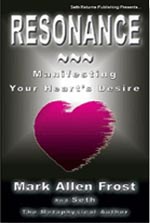 Use the Seth material to create
a spiritual practice of self-discovery
. Seth explains how the dedicated student can
internalize ancient Essential Metaphors and Precepts
and go on to create Positive Realities in all of the domains of living.
Read Inside
Paperback $7.49
eBook $1.49
Seth
A Multidimensional Autobiography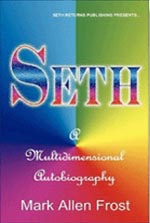 Seth has been
a spice merchant, a caring mother, a Buddhist scribe, a Roman soldier and even a minor Pope
. Interwoven with this biographical material run the threads of the Seth Teaching based upon his famous premise: "you create your own reality."
Read Inside
Paperback $7.49
eBook $1.49
Soul Mate Soul Family Book Three in The Trilogy
A self-help manual from a reincarnational perspective. Seth teaches you how to study your Personal Reality Field and identify Soul Family members including Soul Mates. Exercises for contacting Past Lives and Future Lives are provided. Read Inside
Paperback $7.49
eBook $1.49
Mystery Civilizations
Book Two in The Trilogy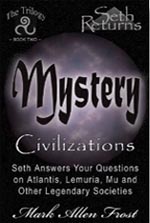 Seth answers questions on legendary civilizations posed to him by his readers.
Atlantis, Lemuria, Mu and other lesser known societies are described
. A manual "to take into the field" for awakening to the multidimensional self using the Seth Teaching.
Read Inside
Paperback $7.49
eBook $1.49
All That Is
Book One in The Trilogy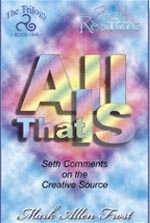 Seth describes the creative source of all realities - All That Is - in
a series of short poignant essays
. This is
a manual "to take into the field"
to experience your own awakening to the Divine using the Seth Teaching.
Read Inside
Paperback $7.49
eBook $1.49
"Another brilliant insight, thank you. I will be reading this book (Thought Reality) over and over, like a little guru book!" J. F. Bowden in the UK
Thought Reality
Communications from Seth on the Awakening of Humanity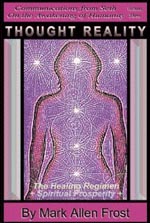 Seth teaches you how to create the Positive Realities of
Health, Abundance and Spiritual Awakening
. Q & A section includes Seth's answers to personal questions posed by visitors to the sethreturns.com website.
Read Inside
Paperback $7.49
eBook $1.49
The Next Chapter in the Evolution of the Soul
Communications from Seth on the Awakening of Humanity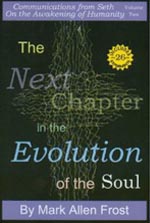 Seth updates his Teaching on All That Is, Probabilities, Time, the Magical Perspective, Reality Creation, Consciousness Units and Simultaneous Lives. Contact your
Energy Personality
and
explore the Unknown Reality
.
Read Inside
Paperback $7.49
eBook $1.49
911: The Unknown Reality of the World
Communications from Seth on the Awakening of Humanity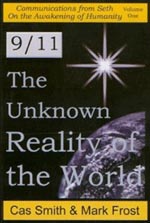 The first book of current information from Seth in almost two decades,
describes the causes of 9/11 from a spiritual perspective
. Contains a series of powerful yet easy-to-do exercises to prepare the reader for personal and global awakening.
Read Inside
Paperback $7.49
eBook $1.49
"Hi, I'm half through reading yours & Cas Smith's book. Until I feel confident that my telepathic skills work, and you can receive, here is what I want to convey in words. Thank you both times infinity. Sending you both so much love, jus xx" Justine in US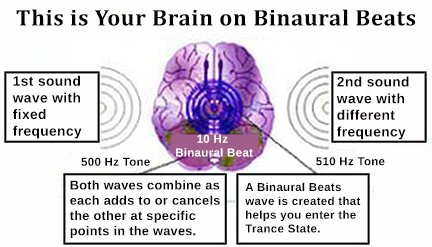 Reality Change CDs
Binaural Beats + Audible & Subliminal Affirmations
A series of thrteen powerful
Guided Meditations
created with Seth according to the principles he discusses in his new books.
To increase the positive effects we have added
Binaural Beats
and
Subliminal Affirmations
to the mix, as these technologies have proven effective in allowing students to access and successfully reprogram the subconscious mind.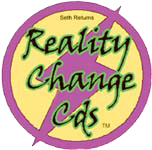 Each CD has two Programs.
DAY PROGRAM
Listen to the Day Program during your waking period. It begins with the Sanctuary and Calling in the Guides rituals narrated by Mark Allen Frost, the Voice of Seth. The remainder of the program contains the relevent Seth Precepts, spoken at first audibly and then faded into Subliminals.
NIGHT PROGRAM
Listen to the Night Program right before sleeping. It is a simple surfscape with the subliminal Seth Precepts in the background.
"Soul Mate. Today I was out and about and must say I kept feeling/expecting I was going to meet 'someone'. Felt really good.... i.e. a low level expectation that something good was going to happen. Kept me on my toes in an exciting way."

Jay in North Carolina

"Hello Mark and Seth! I really enjoy the two subliminal Cd's I recently purchased, the one on dreams seems to really put me in a deeper sleep and my dreams seem so much more vivid with a better recall of conversations and the sense of feel, smell and taste have also awakened."

Raymond in Albuquerque
Soul Mate

I am meeting my Soul Mate. As I look for my partner my partner looks for me. I now accept and heal my Issues around relationships. As a Lover, I naturally attract friends, Lovers and potential Soul Mates.
Soul Mate Only $10.00
Health

I create my body and I now create my healthy body. Each cell in my body is renewed, restored and revived. Every atom in my environment SUPPORTS my return to health.
Health Only $10.00
Abundance

Humanity prospers as I prosper. Feelings of Lack or fear I now express as Love and Courage. I am a Love generator and this returns to me as prosperity. Like magic, I create wealth out of thin air.
Abundance Only $10.00
Awakening

My Love powers the transformation of my Issues into Wisdom. Regardless of criticism from anyone I awaken NOW! I am open to helpful impulses from my other lives.
Awakening Only $10.00
Past Lives

I recognize people I meet as friends and family members from past lives. Fear and anxiety I now express as Love, Courage and openness. My memory regarding past lives greatly improves now.
Past Lives Only $10.00
Healing Trauma

I am now healing the trauma from the past. The past has no hold on me now. I now create my present moment in perfect freedom and safety. I alter my past to remove the trauma.
Healing Trauma Only $10.00
Ideal Weight

I create my reality and I now create my ideal weight. I honor my weight regimen as a path towards health and awakening. I awaken from my eating Trance before I take a bite of food.
Ideal Weight
Only $10.00
Restful Sleep

I create the conditions I need for deep restful sleep. As I sleep my body is renewed, restored and revived. Every atom in my world supports natural healthy sleep. I am vital when needed.
Restful Sleep Only $10.00
Pain Relief

I create my body and I now create my body free of pain. I use my Intent to turn down the pain. I control my mind and so I easily control any pain. Its fun to exercise my pain relieving skills.
Pain Relief Only $10.00
Habit Clearing

I notice when I am entering my Habit Trance. Reasons for the negative habit make themselves known. I take care of myself by making a positive habit of eliminating the negative habit.
Habit Clearing
Only $10.00
Dream Self

I easily recall my dreams. I am learning how to decipher my dream symbols. I receive answers to my questions in my dreams. I expect to remember my dreams and so I do.
Dream Self
Only $10.00
Magical Life

My Guides help me to do good for myself and others. Anything is possible. I ask and I receive. My Source leads me forward to create my highest vision. My Intent is powered by Spirit.
Magical Life
Only $10.00
Wounded Healer

As I heal myself I learn how to help others. I recognize my wound and what it means. My life is a school in which I learn how to heal. I can see the cause of any illness in the Trance State.
Wounded Healer Only $10.00